Related Content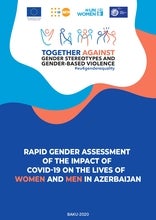 This report presents the findings of a rapid gender assessment of how the COVID-19 pandemic has affected the socio-economic security and sources of...
Urgent, accelerated action needed to stop female genital mutilation, child marriage, and other practices that harm women and girls, according to new...
This technical brief document, prepared by the UNFPA headquarters, reflects a gender glance at COVID-19 pandemics.
Pages