Related Content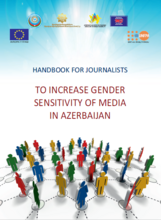 "The Handbook for Journalists to Increase Gender Sensitivity of Media in Azerbaijan" contains detailed information and guidance for media...
This technical brief document, prepared by the UNFPA headquarters, reflects a gender glance at COVID-19 pandemics.
There are reasons why women are always worried about violence.. One in every 3 women in the world is exposed to violence every day ... Let's create...
Pages