Related Content
As we mark World Humanitarian Day, UNFPA salutes those who respond to crises around the world. This year, we call attention to the courage and...
The United Nations Population Fund (UNFPA) and Kapital Bank signed a memorandum of understanding to implement joint projects and campaigns on...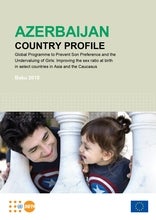 This country report was prepared within the frame of the EU-funded Global Programme to Prevent Son Preference and the Undervaluing of Girls:...
Pages